Preventive & cosmetic dentistry for your complete health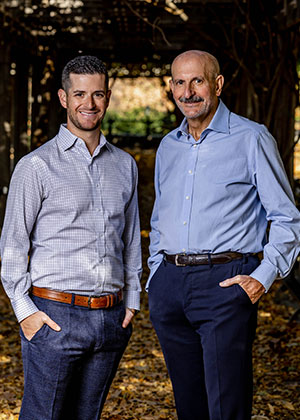 Drs. Alan Blondman and Max Blondman would love to help you attain optimal dental health and a confident, beautiful smile. Blondman Dental is a practice that places you at the forefront. Your goals and concerns are always our top priority.
Starting at your first visit, which will include an in-depth review of your clinical needs, our doctors will talk with and actively listen to you. We want to form a partnership, working with you to achieve great oral health.
Dentistry is a very personal and intimate field: we work very hard to develop a trusting bond with each patient. During your visits, we will give you our undivided attention. We schedule enough time for your procedure, and also for us to discuss what we're doing, why it needs to be done and to answer your questions.
Everyone on our team is committed to getting to know you as a person. You'll never be a set of teeth to any of us. Our goal is to provide gentle, thorough dental care that will help you develop a healthy and confident smile.
Earning Your Trust
We understand that many patients experience dental-related anxiety. The most important thing we can do is earn your trust and confidence. We want you to learn that our office is a safe space, where you will be treated gently and respectfully. We want you to feel completely comfortable talking with us and telling us about your fears. We're able to help you conquer fears, but only if we know what's going on.
We will always thoroughly explain every treatment we're recommending. It's important you understand what is involved, why we're recommending it, and what to expect. When other treatments are available, we'll discuss those with you, too. You'll never be pressured into a certain treatment path, and we'll proceed at a pace where you are comfortable.
A Family-Oriented Dental Practice
We have a tradition of family in our practice. Blondman Dental was founded by the husband and wife team of Dr. Alan Blondman and Dr. Randi Barron. Now our son, Dr. Max Blondman, will be joining us. Our family is honored to care for the smiles of multiple generations of the same families; we'd love to do the same with yours.
Schedule a Visit
Our New York City, NY dental office serves patients from from the entire greater NY Metropolitan area including the five boroughs, NJ, Westchester County and Connecticut. Contact us to schedule a visit, today.
The doctors and team at Blondman Dental look forward to welcoming you to our dental family. It will be a pleasure to help make your dreams of a healthy and beautiful smile a reality.