​A Passion for Healthy Smiles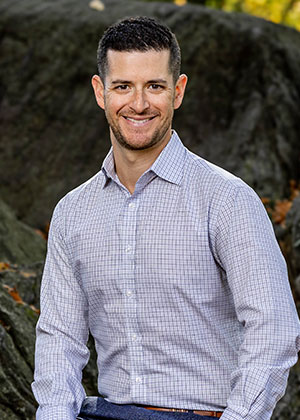 I enjoy meeting new people and getting to know them. Learning about their families and lives, and sharing stories, helps form a connection between us. That connection is essential: patients need to know I am here to help them and trust I always have their best interests in mind when making treatment recommendations. I know that having dental work done is a serious undertaking for my patients, and I like to bring a light-hearted environment into the treatment room. You will often find me singing along to music, dancing in my chair, and joking with my patients.
My undergraduate degree is in Architecture. That ties in well with dentistry, as the planning needed in architecture is crucial in dentistry: I need it to help guide my patients from their dental wishes to their improved dental health and smile.
I became interested in dentistry by seeing the real love my parents – the two founding doctors in this practice – have for their profession. Witnessing the happiness, they find in talking with and forming long-term relationships with their patients, and the work they do, made the decision to become a dentist an easy one.
I have two years of advanced training in implant placement, advanced surgical techniques, restoration of implants from NYU College of Dentistry.
Education and Continuing Education
Undergraduate degree in Architecture, University of Miami
Doctorate of Dental Surgery, New York University College of Dentistry
Residency, Manhattan Veterans Administration Hospital
Certification in Continuing Dental Education for Surgical and Prosthetic Implantology
Dentistry is always evolving. My studies have provided an excellent foundational knowledge of the field. But new approaches to treatment, along with new technologies, are always being developed. My patients look to me to provide the highest level of care and strongest treatment options. Continuing dental education ensures I am able to deliver the best care to my patients.
Professional Membership
American Dental Association
Personal Life
I was born and raised in Great Neck on Long Island. Now I live in Scarsdale NY, with my beautiful and talented wife, Sabrina, our two adorable sons, Jack and Owen, and our dog, Hudson. I am a big sports fan, so you can often find me at Citi Field or Metlife Stadium, cheering (through a frown) for the Mets or Jets.

Contact: Dr.Max@blondmandental.com