Complete Health Dentistry
Health and wellness start in your mouth!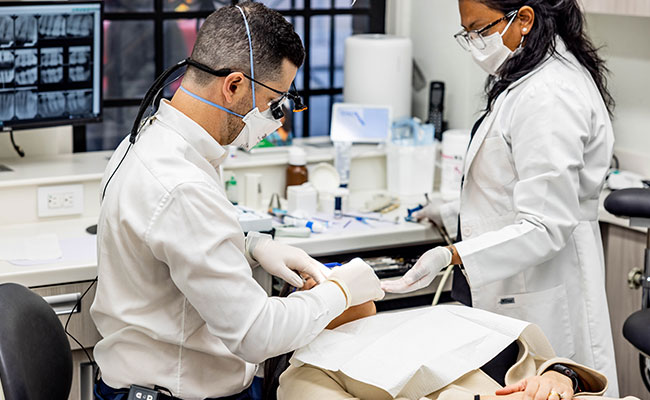 Preventive dental care is essential throughout your life, no matter your age. By practicing good oral hygiene at home and scheduling regular checkups with your dentist, you can help keep your smile bright and healthy for many years to come. Here are a few simple ways that you can prevent the build-up of plaque and cavities:
Brush your teeth at least twice a day with a soft-bristled toothbrush. Use fluoride toothpaste to remove food particles and plaque from the tooth surfaces. Also, be sure to brush the top surface of your tongue; this will remove any extra plaque-causing food particles, and help keep your breath fresh!
Clean between your teeth by flossing at least once a day. You can also use a mouthwash to help kill bacteria and freshen your breath. Decay-causing bacteria can linger between teeth where toothbrush bristles can't reach. Floss and mouthwash will help remove plaque and food particles from between the teeth and under the gum line.
Eat a balanced diet, and try to avoid extra-sugary treats. Nutritious foods such as raw vegetables, plain yogurt, cheese, or fruit can help keep your smile healthy.
Remember to schedule regular checkups with your dentist every six months for a professional teeth cleaning.
Ask your dentist about dental sealants, and protective plastic coatings that can be applied to the chewing surfaces of the back teeth where decay often starts.
If you play sports, be sure to ask your dentist about special mouthguards designed to protect your smile.​
Oral Cancer Screening
We have the skills and tools to ensure that early signs and symptoms of oral cancer and pre-cancerous conditions are identified. While these symptoms may be caused by other, less serious problems, it is very important to visit our office to rule out the possibility of oral cancer. The most common symptoms of oral cancer include:
Red or white spots or sores anywhere in the oral cavity
A sore that bleeds easily or does not heal
A lump, thickening, or rough spot
Pain, tenderness, or numbness anywhere in the mouth or on the lips
Difficulty chewing, swallowing, speaking, or moving the jaw or tongue
Our team is trained in a simple, quick screening that involves an examination of your oral cavity as a whole, and not just your teeth, to detect cancerous and precancerous conditions. Besides a visual examination of your mouth, we will also feel the tissue of your mouth and throat to detect any abnormalities. If we find an area of concern, we may perform a simple test, such as a brush test, which collects cells from a suspicious lesion in the mouth to be sent to a laboratory for analysis. If this test comes back atypical or positive, we may recommend a biopsy.
---